Ancient Bali temples dot the highlands and coasts, boasting magnificent centuries-old architecture. Several have become some of the island's most iconic landmarks. Great for photos, they're usually set against exotic backdrops. They're most colourful during festive temple anniversaries. Such events occur twice a Gregorian year since dates are based on a local 210-day calendar.
On any other day, these temples are great places to visit at least once during your visit. Each temple is unique. Try Besakih, Bali's mother temple', set against majestic Mount Agung, for instance. Or, the mysterious ruins of Goa Gajah near Ubud. Uluwatu and Tanah Lot against golden sunsets can be truly magical. Proper attire – a sarong and sash – are mandatory for Bali temple visits.
1. Pecatu, South Bali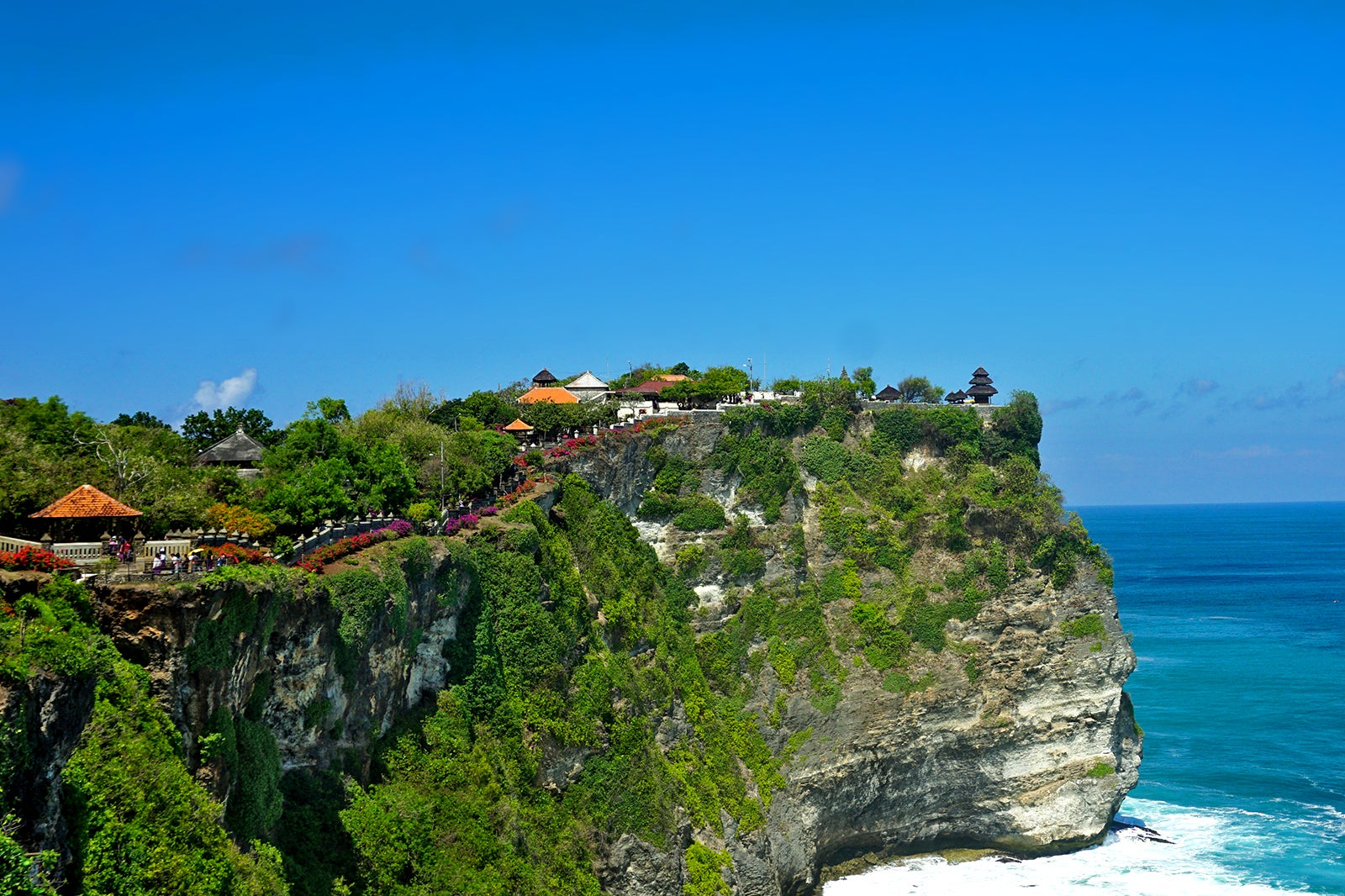 Uluwatu is one of Bali's picture postcard temples, whose cliff base is also known among surfers as an exotic surf spot. The temple sits on a clifftop in Bali's southwest, about 70 metres above the crashing waves. 'Pura Luhur Uluwatu' as the locals call it, similarly shares the splendid sunset backdrops of the Tanah Lot sea temple in West Bali. Even so, Uluwatu's more elevated perch provides broader and more breathtaking seascapes.
Pathways throughout the site allow you to witness the ancient architecture and sculptures from up close. A dense forest inhabited by grey long-tailed macaques surrounds the temple. An open-air amphitheatre nearby regularly shows the Ramayana ballet or Kecak dance during the golden sunset hours – perfect for memorable pictures.
Location: Jalan Raya Uluwatu, Pecatu, Badung, Bali 80361, Indonesia
2. Bedugul, Tabanan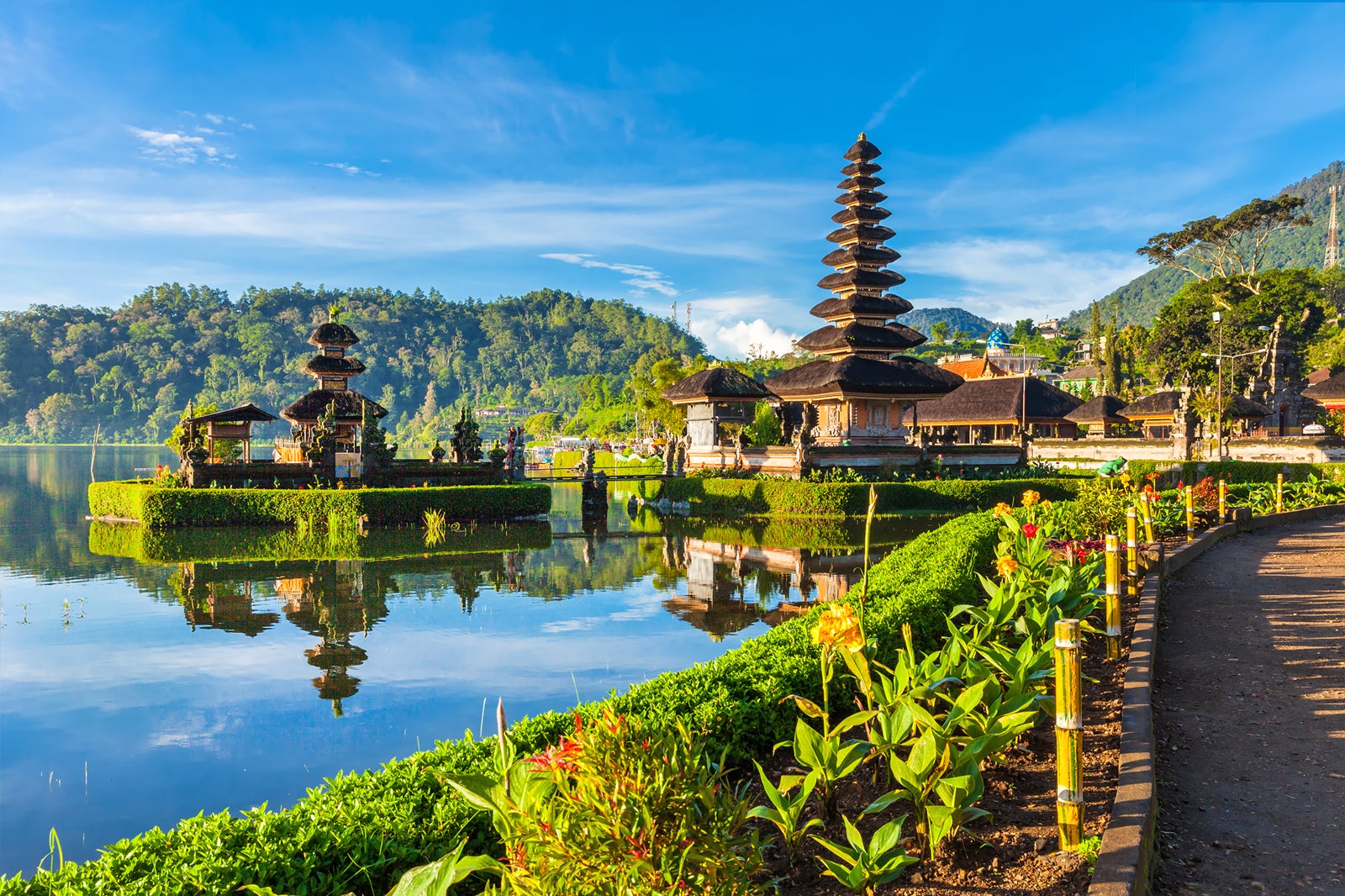 Ulun Danu Beratan Temple is a picturesque landmark temple in Bali's central highlands. The temple sits on the western side of Beratan Lake. The smooth reflective surface of Beratan surrounds most of the temple's base, creating a unique floating illusion. The mountain range provides the temple with its hazy, dreamy backdrop.
The striking scenery and cool atmosphere of these uplands have made the temple a favourite sightseeing spot. The large flowering lakeside gardens offer an enjoyable time with many photographic moments. Recreational activities include short boat trips on the lake. You can also enjoy leisurely rides on 2-seater duck paddle boats as well as a host of other water sport activities.
Location: Candikuning, Baturiti, Tabanan, Bali 82191, Indonesia
3. Mengwi, Badung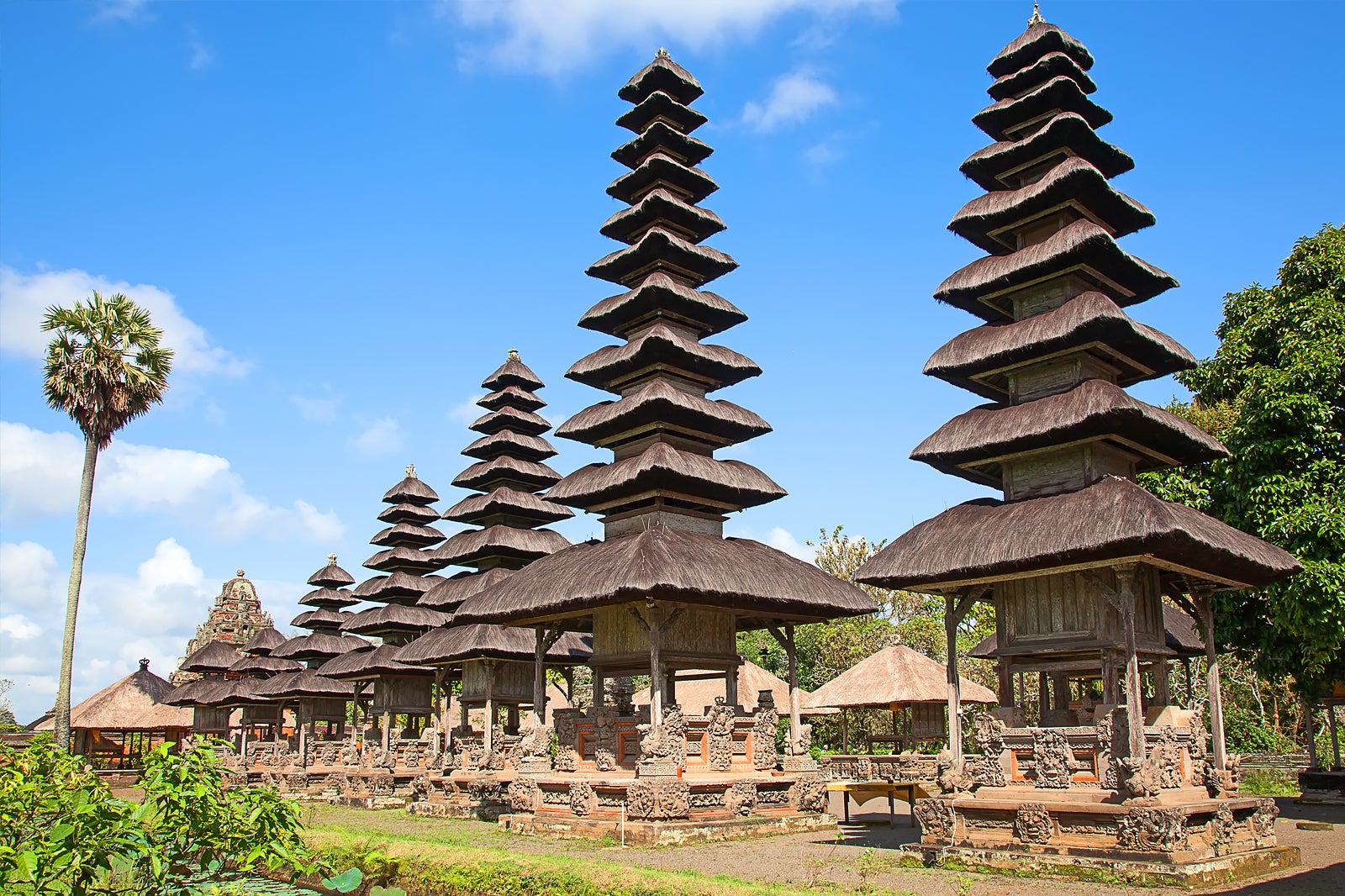 The 17th-century Taman Ayun temple is the main landmark of the Mengwi village in the Badung regency. It showcases great examples of traditional Balinese Hindu temple architecture. The temple has well-maintained courtyards and enclosures. Inside is an expansive tropical garden and water features with lotus and fish ponds.
Towering tiers from the shrines make up most of the profile of Taman Ayun. The temple is the heritage site of the Mengwi kingdom and its late ruler, Tjokorda Sakti Blambangan. You can find hints of Chinese influences throughout the temple's architecture and reliefs.
Location: Jalan Ayodya No.10, Mengwi, Badung, Bali 80351, Indonesia
4. Tabanan, West Bali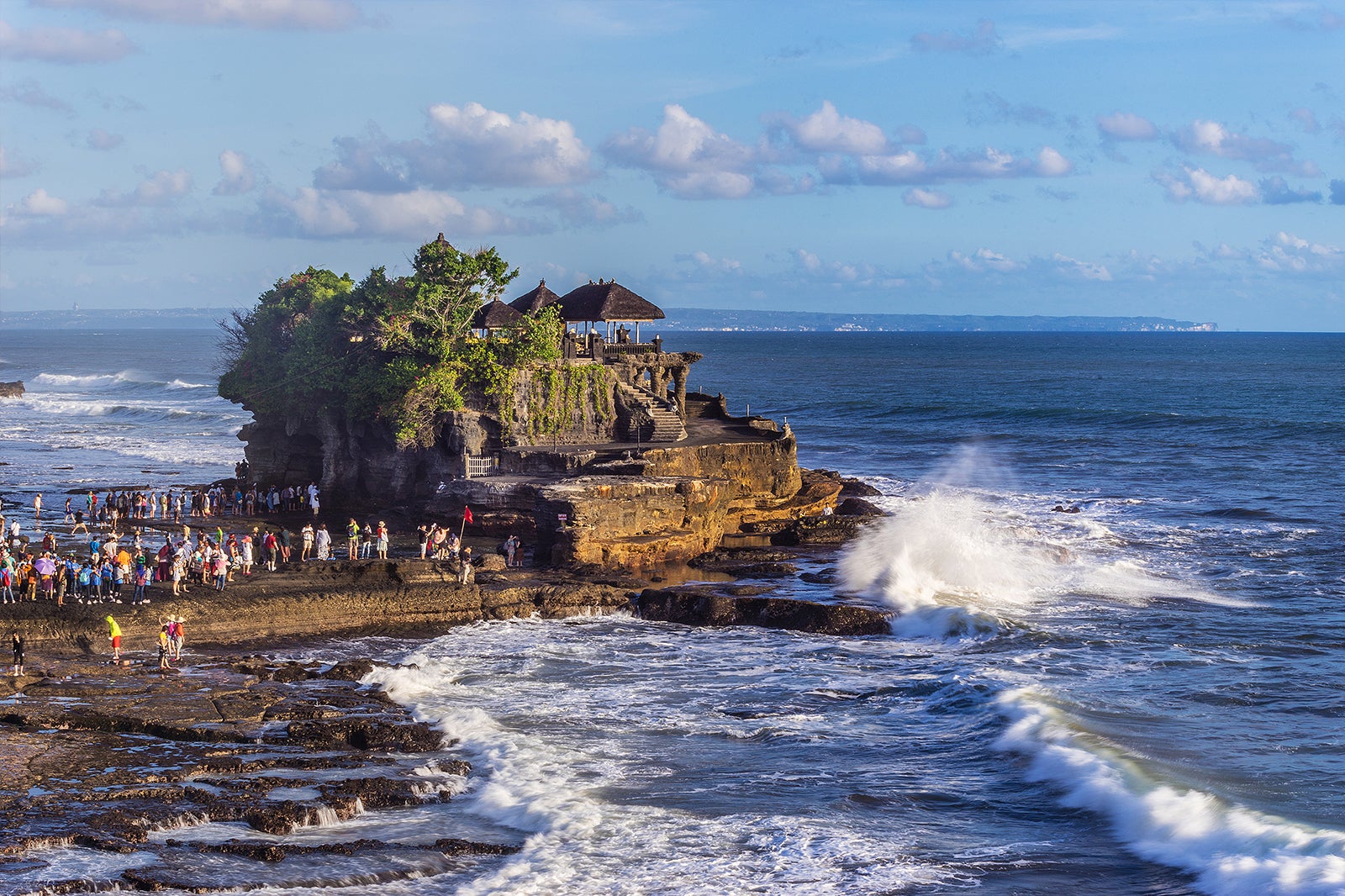 Tanah Lot regularly features on Bali postcards and travel brochures, thanks to its stunning and unique offshore setting. It comprises an ancient Hindu shrine that sits on top of an outcrop amidst constantly crashing waves from the Indian Ocean. The sea temple is a constant highlight on tours to Bali's western region – sunsets here are not to be missed.
The temple is about 45 minutes' drive north from Kuta. Nearby are smaller onshore village temples and visitors' leisure facilities such as restaurants, shops and a cultural park where dance performances are shown. Best time to visit Tanah Lot is during the day of Kuningan and on the temple's anniversary 5 days later when festive pilgrimages are among the common sights.
Location: Jalan Raya Tanah Lot, Beraban, Kediri, Tabanan, Bali 82121, Indonesia
5. Ubud, Central Bali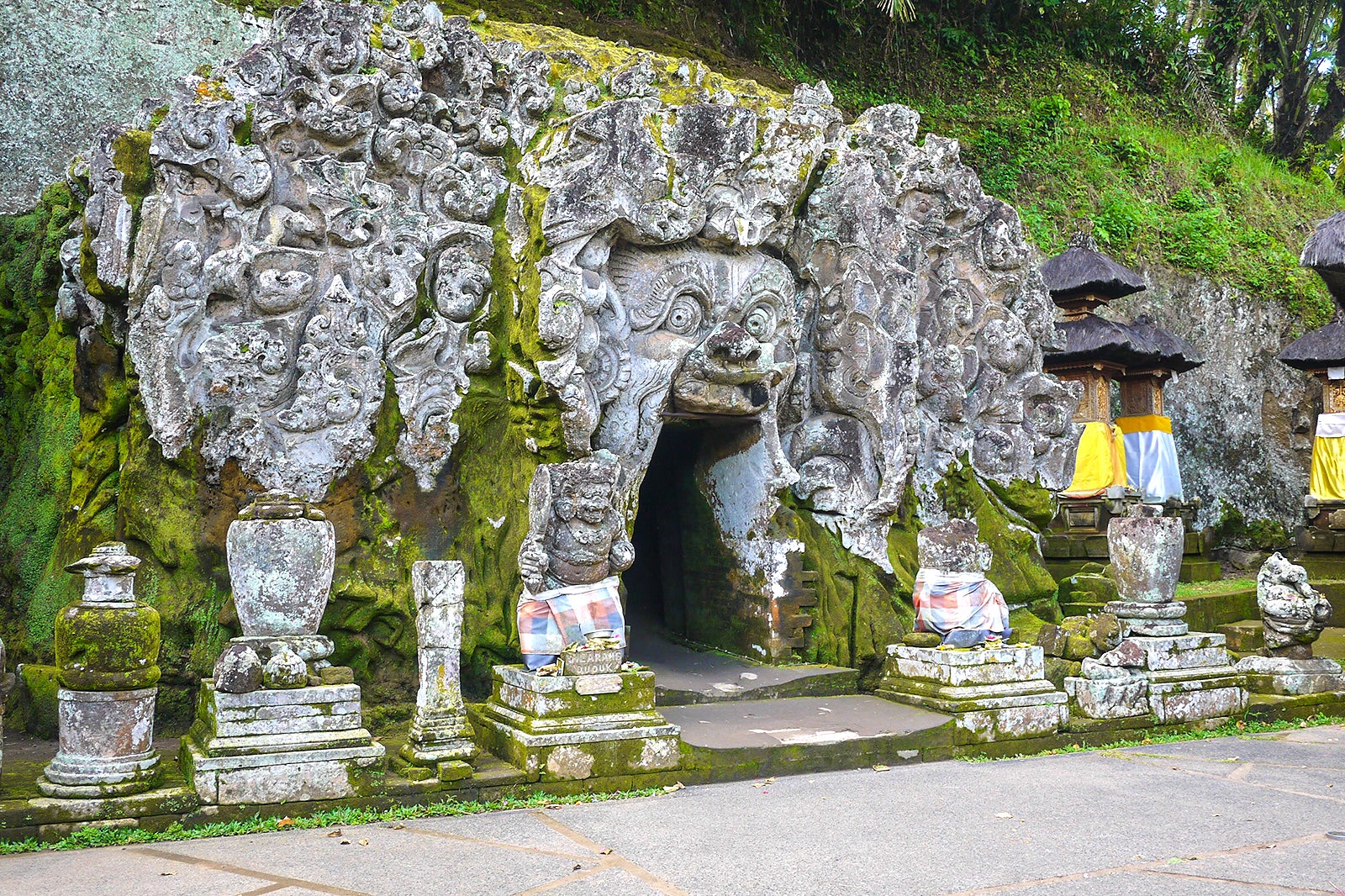 Goa Gajah is an archaeological complex with historical significance that's great for a brief stopover on tours to the Ubud and the central Bali region. Even though its name translates to 'Elephant Cave', you won't find any pachyderms here. The cave was built as a hermitage back in the 11th century. It's quite shallow, containing stone idols and meditation spaces.
In front of the mysterious cave, you'll find a wantilan or meeting hall and a temple courtyard. An open-air gallery of large stone relics lies near an ancient bathing pool that was excavated in 1954. You can enter the pool and see the statues of nymphs holding waterspout vases up close, or explore the legendary Petanu River and its stone artefacts behind the temple grounds.
Location: Jalan Raya Goa Gajah, Pejeng Kawan, Tampaksiring, Gianyar, Bali 80582, Indonesia
6. Gianyar, Central Bali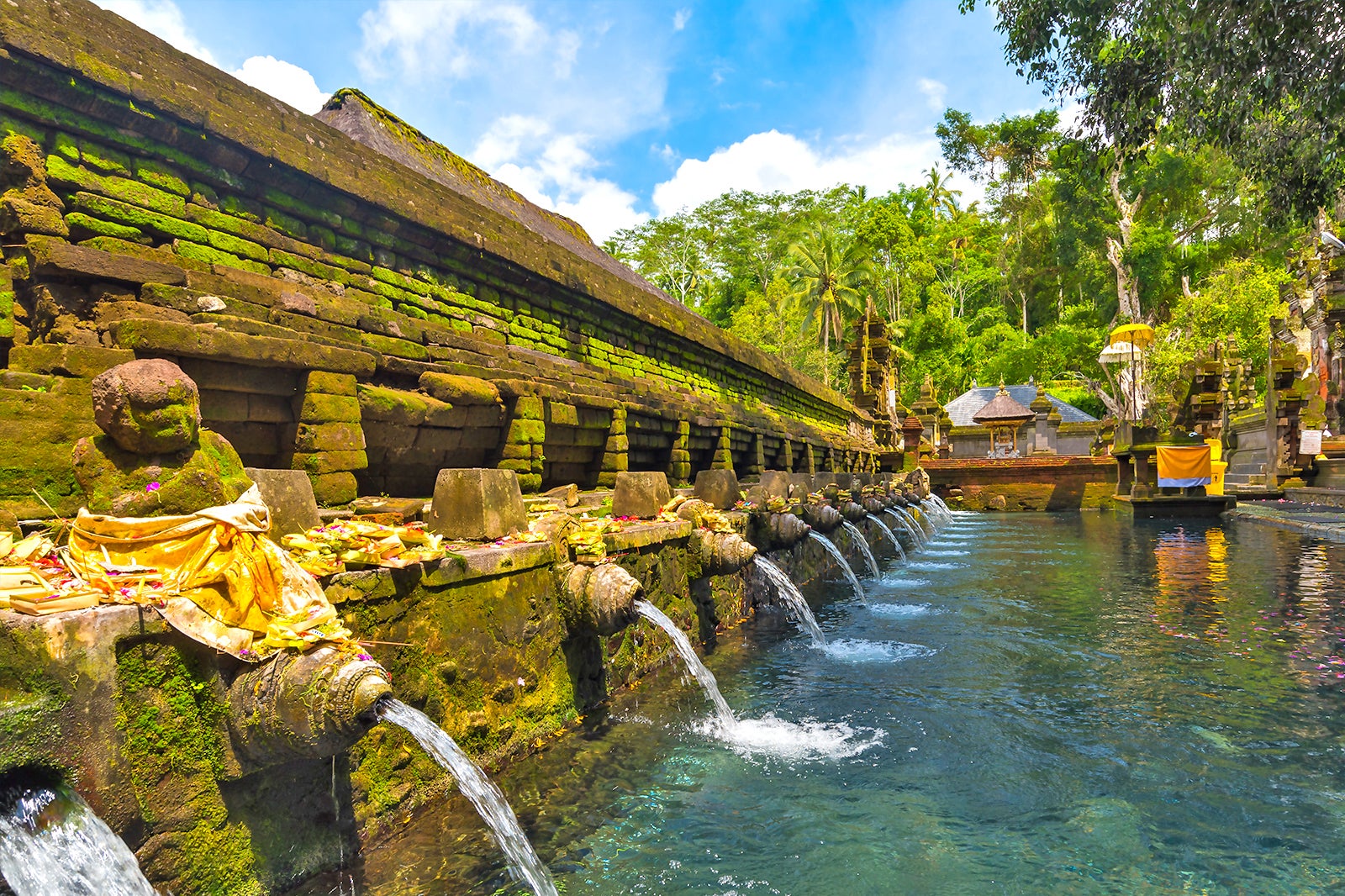 Tirta Empul is a national cultural heritage site. It dates back to 960 AD during the old Balinese kingdom rule of the Warmadewa Dynasty. Its name means 'holy water spring' and is actually the name of a water source located within the temple. This spring flows into various purification baths, pools and fish ponds.
The water then flows into the Tukad Pakerisan River nearby. Various sites and archaeological relics throughout the region relate to local myths and legends. Another nearby and prominent site on top of a hill is the presidential palace, Istana Tampaksiring. The palace was built during the years of the nation's first president, Soekarno.
Location: Jalan Tirta, Manukaya, Tampaksiring, Gianyar, Bali 80552, Indonesia
7. Ubud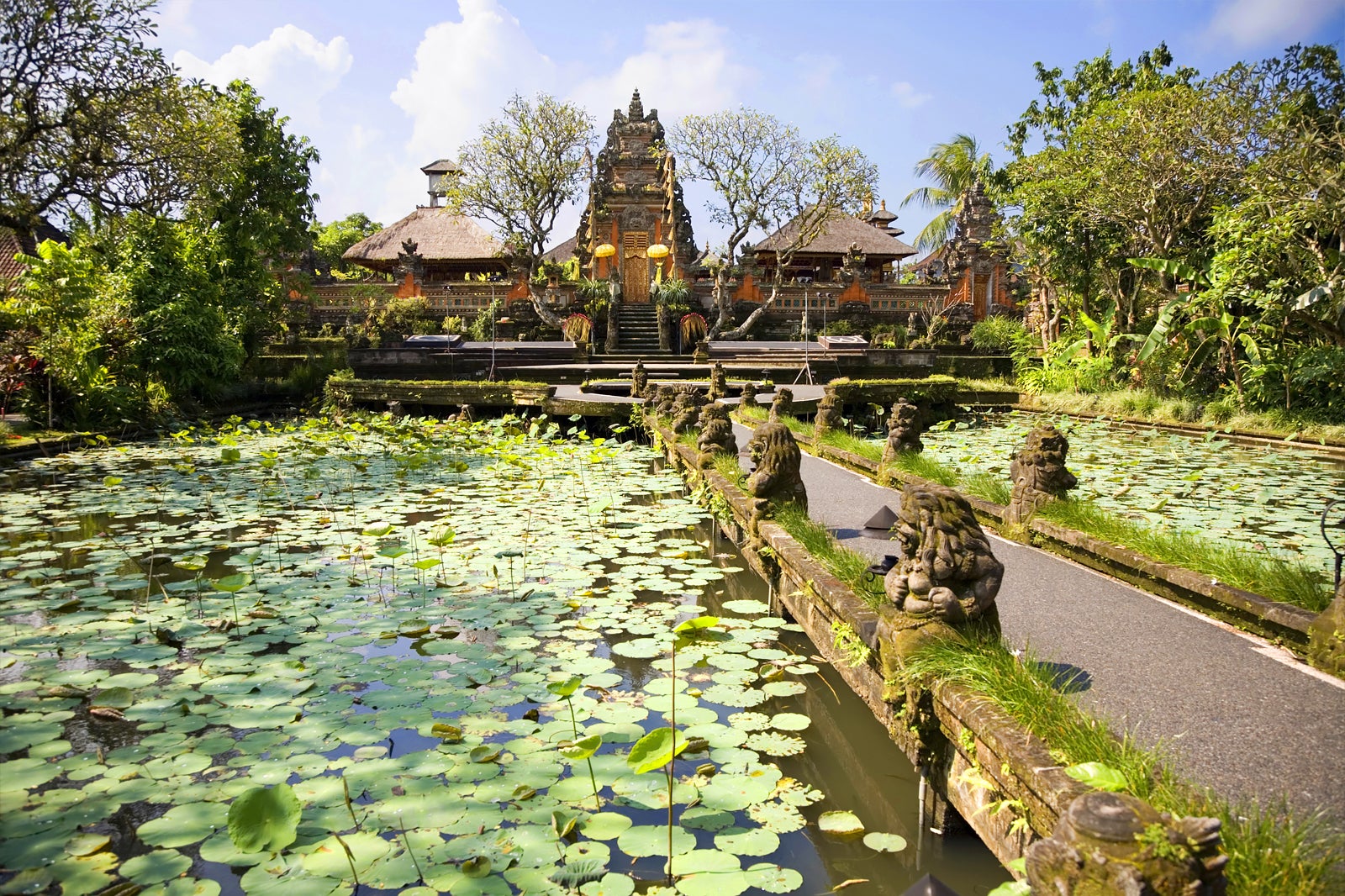 The Pura Taman Saraswati is a beautiful water temple in central Ubud. You can access the temple from the Jalan Kajeng side street off the main road of Jalan Raya Ubud. The temple is a great stopover along your leisure walks through Ubud town, where you can admire its classical Balinese temple architecture and enjoy photo opportunities.
Its beautiful foyer features ponds filled with blooming pink lotuses. Most regular visitors drop into Café Lotus for a minimum dinner cover charge, which gets you the best view over the lotuses and to the temple's open stage. Regular traditional dance performances are held in the evenings here from 7.30pm.
Location: Jalan Kajeng, Ubud, Gianyar, Bali 80571, Indonesia
8. Karangasem, East Bali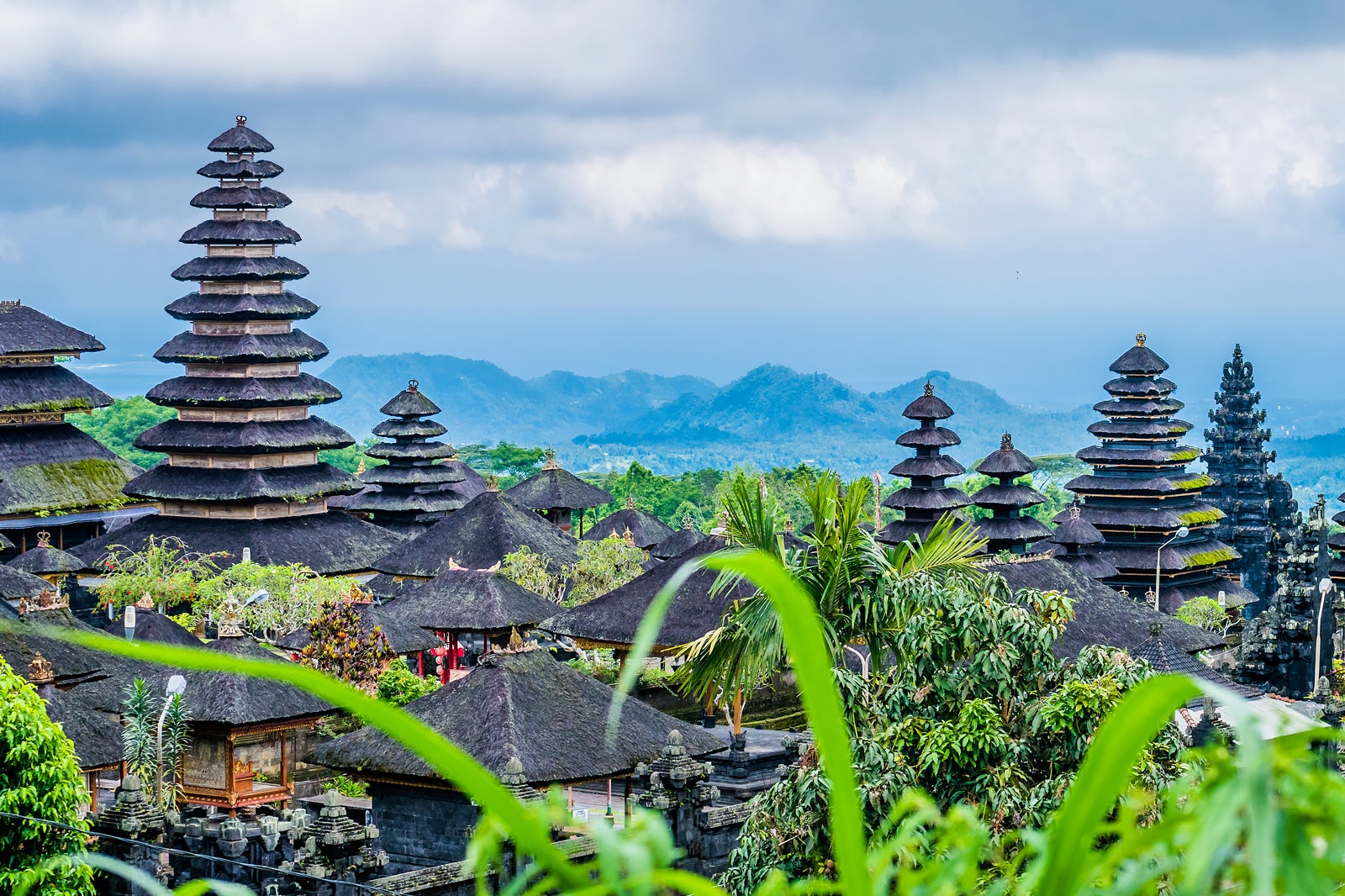 Besakih Temple is often referred to as Bali's 'mother temple' – a grand complex of different clan temples and shrines on the south-western slopes of Mount Agung. At least 70 celebrations are held at Besakih yearly, as each shrine has its own anniversary. Exploring the whole site can take a day. Even so, most visits cover only the largest central complex, Pura Penataran Agung.
Another temple, Pura Pasimpangan, lies east of Pura Penataran Agung. On the higher slopes is Pura Pengubengan, offering great vistas from 1,000 metres above sea level. Sarongs and sashes are compulsory attire when visiting the temple, available usually for a 'donation fee' at the main entrance. You can also buy some colourful souvenir textiles from the many kiosks that dot the parking area.
Location: Besakih, Rendang, Karangasem, Bali 80863, Indonesia
9. Karangasem, East Bali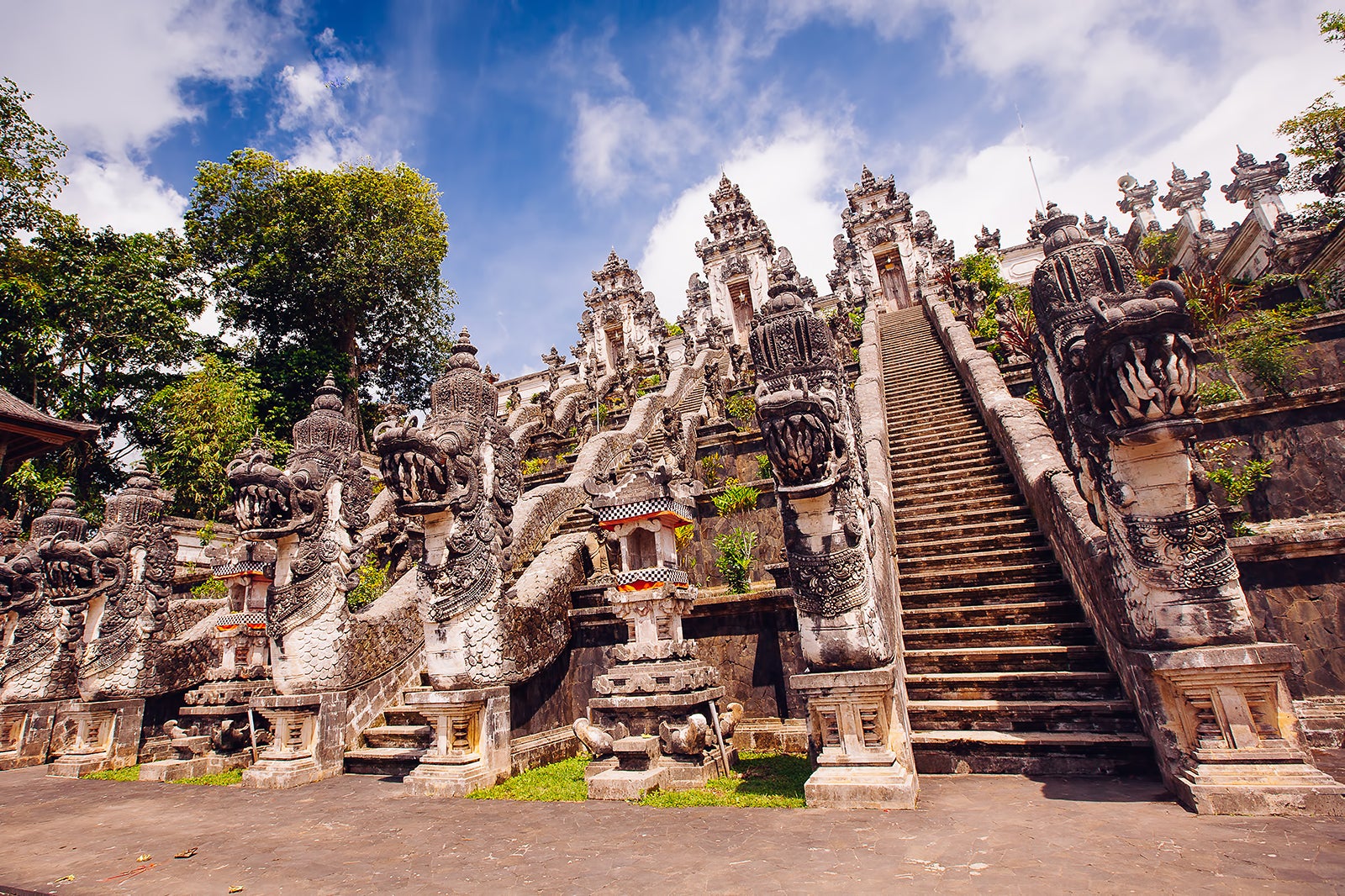 Lempuyang Temple is one of Bali's oldest and most venerated temples. It's on par with Besakih Temple. This temple is also believed to predate the majority of Hindu temples on the island. It's a great addition to any travel plans to East Bali, especially for the fit and adventurous.
The main temple is at 1,175m above sea level, on the peak of the namesake Mount Lempuyang. The grander Penataran Agung temple at the slope of the mountain is very popular for Instagram shots. If you wish to reach the temple at the peak, it's a steep climb up over 1,700 steps. At the top, the prize view is a sweeping panorama over East Bali's lush topography.
Location: Jalan Pura Telaga Mas Lempuyang, Tri Buana, Abang, Karangasem, Bali 80852, Indonesia
10. Northeast of Ubud, Central Bali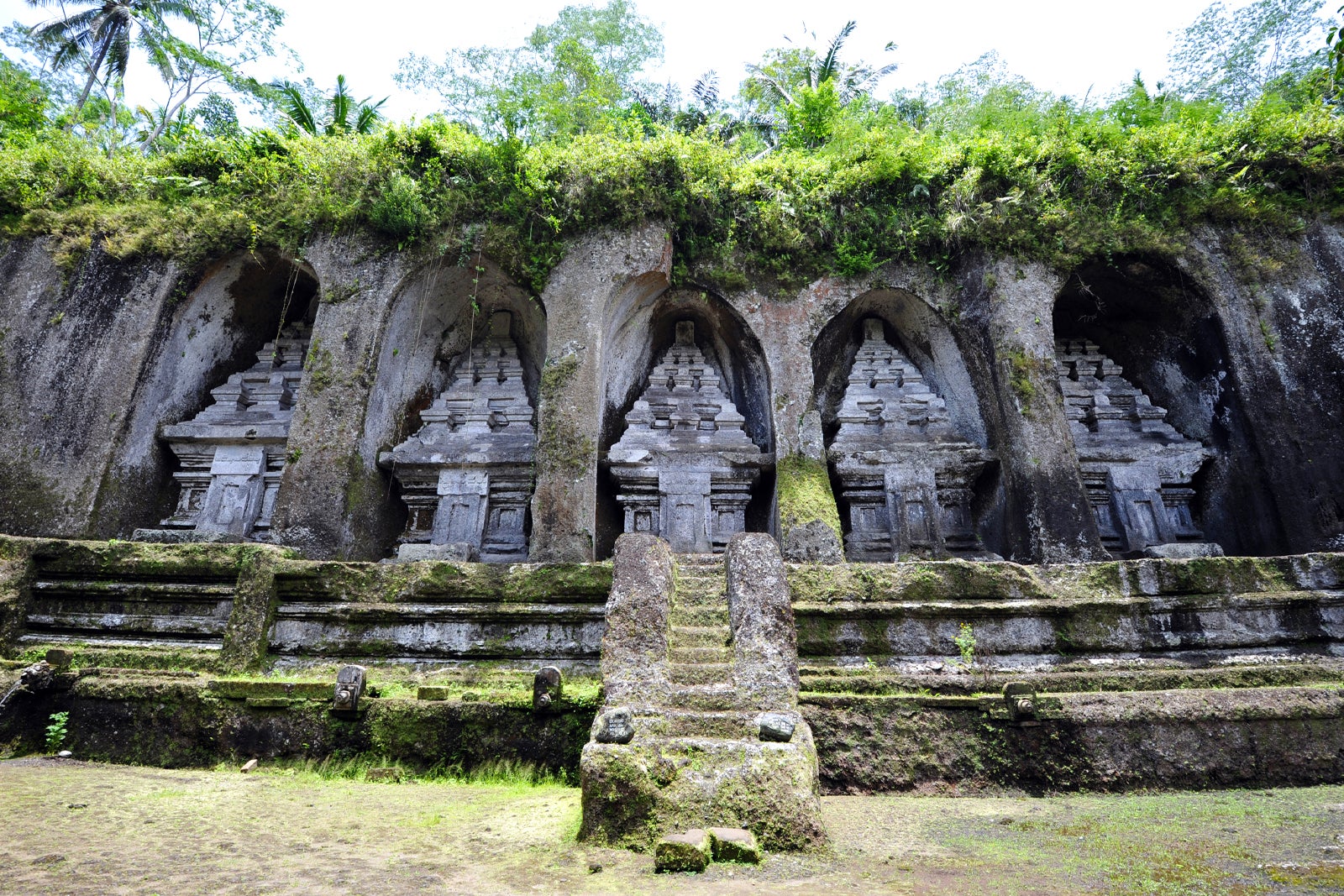 The Gunung Kawi Temple complex is one of Bali's most unique archaeological sites. The temple comprises a collection of ancient shrine reliefs carved into the face of a rock cliff. The main site overlooks the sacred Pakerisan River. This is the same river that flows by the Tirta Empul Temple, a kilometre north.
A temple courtyard featuring old Hindu shrines is across the river from the ancient reliefs. You can reach the temple on foot down a paved walkway, passing art shops and small local warungs food kiosks. Lush paddy terraces and a gorgeous green valley accompany you down the 300 steps leading to the river. The whole view transports you back in time and away from modernity.
Location: Banjar Penaka, Tampaksiring, Gianyar, Bali 80552, Indonesia